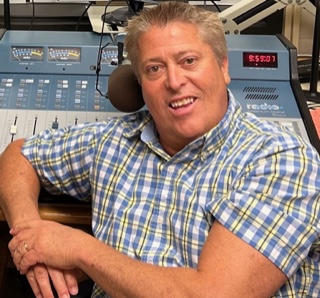 John has been at Cumulus Radio since 1989 when he started as the back-up sports and newscaster before taking over the Eye in the Sky traffic duties in 1995. Logging over 8000 hours in the sky over Central PA, Wilsbach is the area's authority with traffic reporting, heard on 8 Cumulus radio stations in Central PA.  As a sportscaster, Wilsbach is the voice of the Middletown Blue Raiders, his alma mater. He's also the football and basketball broadcaster for Lebanon Valley College, and he's the longtime voice of the Harrisburg Heat pro indoor soccer team.  John is also the General Manager of the Middletown School District's FM radio station WMSS. He served in both the PA Army National Guard and Air Guard while attending HACC in the 80s and was inducted into the Capital Area Chapter of the PA Sports Hall of Fame.
In his spare time, John likes to travel to Florida and the Caribbean, and see as many Beach Boys/Brian Wilson concerts as possible. He resides in Dauphin County with his wife Michelle and dog Avi.
You can hear John's traffic reports on 93.5 WTPA weekdays at:  6:10am, 6:20am, 6:35am, 6:50am, 7:10am, 7:20am, 7:35am, 8:10am, 8:20am, 8:35am, 3:10pm, 3:35pm, 4:10pm, 4:35pm, 5:10pm, and 5:35pm.
Traffic Tip Hotline: 717-901-5000
Email John at: [email protected]